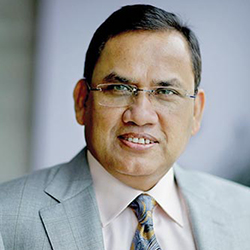 M. A. JABBARM
Managing Director, DBL Group
Conferred NRB DAY Award 2022
For Outstanding Contribution to Industry
Mohammed Jabbar is the Managing Director of a Family Business Conglomerate of Bangladesh, DBL Group, established in 1991. He is a Computer Science graduate from the University of Texas at Dallas, USA.
Mr. Jabbar is highly aware of and compliant to the changing flows in the global market and is passionate about CSR and Sustainability. He has been instrumental in developing a good reputation and continued success for DBL. His dynamic leadership brought in growth opportunities for the company resulting in the evolution of more diversified industries for DBL Group. In a span of three decades, DBL has grown and diversified into Apparels, Textiles, Ceramic Tiles, Pharmaceuticals, Dredging, Telecom, VLSI, and IT industries. DBL had annual turnover of $870 million for the year 2021-22 and employs 43,000+ people.
His enthusiasm for excelling, harvesting, and cultivating innovation has roped in professionals from different fields to join the business and articulate their talents to transcending lengths. Being a signatory to UN Global Compact, Jabbar has aligned the sustainability activities of DBL with the UN Sustainable Development Goals (SDGs).
Mr. Jabbar is Senior Vice-President of Bangladesh Economic Zone Investors' Association (BEZIA) and Vice-President of Bangladesh Ceramic Manufacturers & Exporters Association (BCMEA). He is also on the Board of the Global Compact Network Bangladesh, Trustee Board Member of CSR Center Bangladesh, and Advisory Committee Member of the British International Investment (BII), the development finance institution of the UK government.
He also represents DBL in the International Chamber of Commerce (ICC) Bangladesh, and World Economic Forum (WEF).