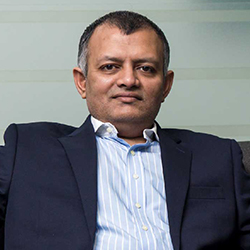 Wahidur Rahman Sharif
Managing Director, Digicon Technologies Limited
Conferred NRB DAY Award 2022
For Outstanding Contribution to Technology
Wahidur Rahman Sharif is the Founder and Managing Director of Digicon Technologies Ltd. since its inception (2010). He started Digicon Technologies Ltd. as one of the first BPO Companies in Bangladesh with a vision to provide unparalleled expertise and cost-effectiveness to existing business processes with a mission to deliver solutions through the right sets of people and technologies to ensure maximum value for a business.
Educated on MIS at University of Texas (Arlington), Wahidur launched his career as Manager, MIS, and Administration in Placemark Investments, an Envestnet's portfolio consulting group, located at Addison, Texas. He later joined as Managing Partner Impetus Consulting, where his fields of experience span from hard-core technology disciplines to sophisticated financial management. Under his leadership, Digicon Technologies was awarded the 'ICT Achievement Award' at the Digital World 2015 in Dhaka.
Wahidur is also one of the Co-founders and Managing Director of Digicon Global Services Limited and Tahoe Communications Ltd. At the same time, he is serving as the President of Bangladesh Association of Call Center & Outsourcing (BACCO), as well as a member of FBCCI, BASIS & AmCham (American Chamber of Commerce in Bangladesh).